Allter Prime™ Products
The alternate for above ground zinc coatings

Allter Prime™ is a one component, ceramic polyisobutylene enriched primer formulated to provide corrosion protection to steel substrates in both maintenance and new construction situations. As a high performance anti-corrosive primer, Allter Prime™ gives maximum protection as part of any anti-corrosive coating system for aggressive environments including those found on offshore structures, petrochemical facilities, pulp and paper plants, bridges and power plants at moist substrates.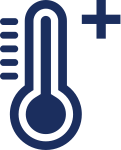 operating temperature
-60°C
+230°C
Provides excellent corrosion protection.
No need for extensive loose abrasive blasting – saves time.
Bonds to moist substrates
Economical Polyisobutylene ceramic primer
Also available in spray cans
Can topcoat with a range of coating types, such as epoxies, polyurethanes, and chlorinated rubbers.
Suitable industries
Suitable for structural steel and piping exposed a wide range of corrosive atmospheric environments.
Recommended for offshore environments, refineries, power plants, bridges, buildings, mining equipment and general structural steel. Specially designed as a primer for coating systems where extended durability is required.