Fusion Tape™
is a self-fusion, amalgamating PIB rubber tape.
Allter Fusion Tape™ is a cold applied shrink- and self-priming tape with self-fusion, amalgamating properties with a high durable flexibility for buried and atmospheric services. This self-fusion tape is particular designed for sealing, waterproofing and insulating irregular shapes and surfaces made from new and old cast iron, carbon steel, stainless steel, non-ferrous metals, coated steel, galvanized steel and plastics like PE and PP.
The alternate for utility pipe coatings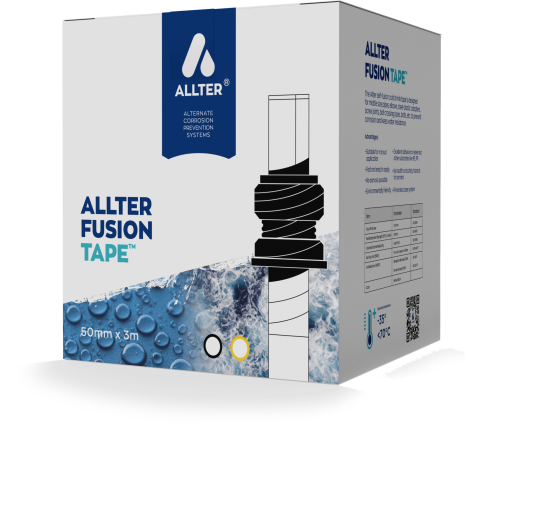 Objective
The objective is the provision of aboveground paint coating solutions that are friendly to humans and the environment and unique in their composition and effectiveness on damp surfaces. Allter® aims to supply a universal next generation primer that is simply the best for long-term corrosion protection of durable assets from a holistic, TCO (Total Cost of Ownership) point of view, with an optimum lifespan of 15 years at up to 230 degrees Celsius.
Self-priming/No primer required
Peel strength to steel (>5N/cm. at 23°C/73°F) according ISO 4587
Self fusion, fully amalgamating tape
Excellent adhesion to steel and difficult substrates like PE and PP
Excellent durable flexibility, up to 2 times the original length
Excellent barrier properties
Electrical Resistivity (>3x1013MΩ) according to ISO 13931
Good UV resistance
Fast and easy to install by hand
Perfect for irregular shapes
Service temperature from -40up to +70°C (-40 up to 158°F)
Environmentally friendly product/safe to use
Suitable industries
Suitable industries are petrochemical facilities, chemical plants, Offshore, power plants, refineries.
Examples of applications are small and mid-size diameter pipes, appendages, elbows, bends, joints, bolts, cable connections, splices etc.