Therm™ 650TC
is a pure inorganic silicate polymer.
Therm™ 650 TC is a high performance single-component pure inorganic high temperature resistant topcoat with ultra-high temperature and UV resistance, designed to protect carbon- and stainless steel atmospheric exposed substrates in both cryogenic and elevated temperature applications. The material is fully ambient curing and can withstand temperatures from -196°C up to 650°C (-321 up to 1202°F).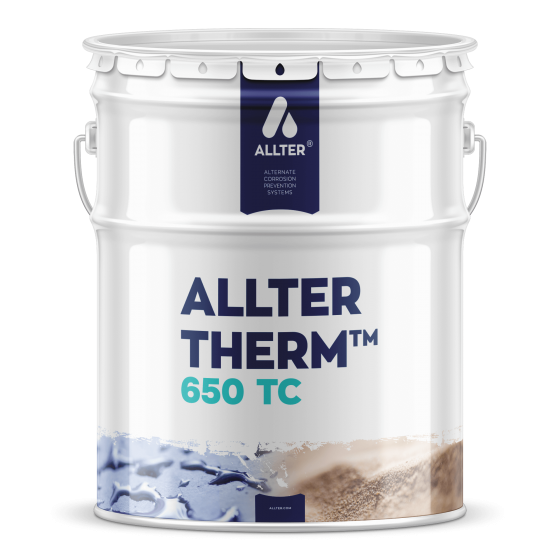 Objective
The objective is the provision of aboveground paint coating solutions that are friendly to humans and the environment and unique in their composition and effectiveness on damp surfaces. Allter® aims to supply a universal next generation primer that is simply the best for long-term corrosion protection of durable assets from a holistic, TCO (Total Cost of Ownership) point of view, with an optimum lifespan of 15 years at up to 230 degrees Celsius.
Outstanding UV resistance inorganic topcoat
Outstanding thermal cycling resistance
Available in various RAL and Safety colours (customs on request)
Service temperature from -196 up to 650°C (-321 up to 1202°F)
Can be applied on hot substrates (up to max. 130°C/266°F)
Can be applied with Airless, conventional spray and brush & roller
Can be used for in shop (OEM) as well maintenance applications
No need for heat curing
Suitable industries
Suitable industries are petrochemical facilities, chemical plants, Offshore, power plants, refineries etc.
Application examples are non-insulated piping, process vessels, storage tanks, heat exchangers, stacks, ductwork, steam pipes and other equipment.