Tape PE™
is a self-adhesive pressure sensitive polyethylene tape with a premium grade butyl rubber adhesive.
Allter-Tape PE™ is a cross laminated HDPE cold applied tape designed to be used as a high-performance mechanical protection on top of our corrosion barrier systems Visco-Rite™ 70 and 70HB for immersed and buried services up to continuous 70°C (158°). This material provides good abrasion, impact and indentation resistance, and is also resistant to chemicals like acids and alkalis.
The alternate for utility pipe coatings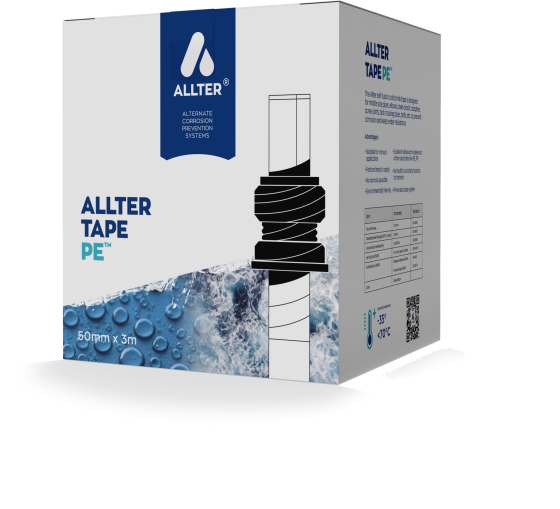 Objective
The objective is the provision of aboveground paint coating solutions that are friendly to humans and the environment and unique in their composition and effectiveness on damp surfaces. Allter® aims to supply a universal next generation primer that is simply the best for long-term corrosion protection of durable assets from a holistic, TCO (Total Cost of Ownership) point of view, with an optimum lifespan of 15 years at up to 230 degrees Celsius.
Complies to ISO 21809-3: 2016 in combination with Visco-Rite™70HB
Can be applied by hand or Wrapping machine
Excellent mechanical properties
Very good impact and indentation resistance
Very good resistance to aging at maximum operating temperature
Excellent suitable for hot climates
Excellent adhesion to itself
Service temperature from -40 up to +70°C (-40 up to 158°F)
Short term maximum 90°C (194°F)
Environmentally safe product/safe to use
Suitable industries
Suitable industries are petrochemical facilities, chemical plants, Offshore, power plants, refineries.
Examples of applications are buried pipelines, girth-weld joints, elbows, tees, reducers, bends, flanges, insulated pipelines etc.