Seal™ 100 HB
Seal™ 100 HB is a solvent free, isocyanate free and plasticizer free, high performance one component elastomeric topcoat, membrane and sealer with excellent film-build capabilities and weatherability. This coating can be used on top of all Visco-Rite™ corrosion barrier materials for atmospheric services where an excellent UV resistance, permanently flexible, and durable finish is required. Allter-Seal™ 100 HB can also be used as a water vapor permeable membrane on substrates with entrapped water such as concrete, screeds, wood etc. and as a seamless waterproofing membrane as replacement for traditional insulation jacketing on solid insulation.
The Alternate Topcoat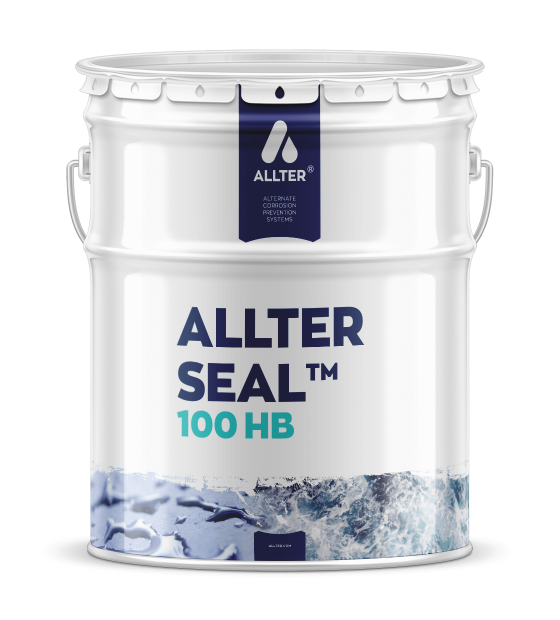 Objective
The objective is the provision of aboveground paint coating solutions that are friendly to humans and the environment and unique in their composition and effectiveness on damp surfaces. Allter® aims to supply a universal next generation primer that is simply the best for long-term corrosion protection of durable assets from a holistic, TCO (Total Cost of Ownership) point of view, with an optimum lifespan of 15 years at up to 230 degrees Celsius.
Solvent free, isocyanate- and plasticizer free material
Excellent UV resistance and color retention
Permanently flexible and crack-bridging properties
High-build capabilities with brush, roller and Airless
Can be embedded with a non-woven fabric for higher film thickness
Very good resistance to industrial gasses
Excellent resistance to water, salt water and wastewater
Flame retardant properties
Service temperature from -40up to 120°C (-40 up to 248°F)
● Application and curing down to 1°C (34°F)